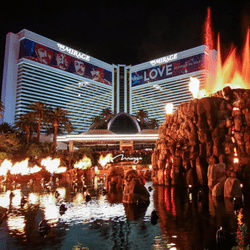 Pada hari Senin, 13 Desember, operator MGM Resorts International mengumumkan bahwa mereka telah menandatangani perjanjian penjualan untuk kasino hotel The Mirage. Grup Hard Rock International mengakuisisi perusahaan game ini yang terletak di Las Vegas Strip yang terkenal.
Untuk ini, dia harus mengeluarkan uang tunai $ 1,075 miliar.
Penjualan yang seharusnya terwujud pada paruh kedua tahun 2022
Berdasarkan ketentuan perjanjian penjualan yang ditandatangani baru-baru ini antara 2 operator Amerika, MGM Resorts International akan mempertahankan merek The Mirage. Dalam waktu maksimal 3 tahun, Hard Rock International harus mengganti nama perusahaan game.
Sampai ini efektif, dia masih bisa menggunakan nama ini tanpa harus membayar royalti.
Tentu saja, agar menjadi efektif, penjualan ini masih perlu mendapatkan izin peraturan resmi, yang menurut para analis seharusnya tidak menjadi masalah. Diharapkan akan selesai pada paruh kedua tahun 2022.
Satu lagi obral di Strip untuk MGM Resorts International
Saat ini, harus diakui bahwa penjualan hotel-kasino terhubung di Strip. Jadi, misalnya, selama bulan Maret 2021, grup Las Vegas Sands menandatangani kesepakatan besar untuk memisahkan diri dari Ventian dan Palazzo serta dari Sands Expo and Convention Center dengan nilai 6,25 miliar euro dolar.
Jika kita hanya memperhitungkan MGM Resorts International, itu telah menjual sejumlah besar resor terkemuka sejak awal 2019 seperti Bellagio, MGM Grand dan Mandalay Bay antara lain. Rangkaian transaksi ini merupakan langkah penting bagi Las Vegas dan operator Amerika.
Hal ini sebagian dapat dijelaskan oleh keinginan MGM Resorts International untuk didirikan di Jepang. Memang, dia telah bekerja selama beberapa tahun sekarang di proyek hotel-kasino di prefektur Osaka.
Dengan demikian, kelompok tersebut harus menemukan cara untuk membiayai pembangunan kompleks permainan ambisius yang dianggarkan sebesar 10 miliar dolar itu.
Resor Las Vegas yang legendaris
Melalui perjanjian penjualan baru-baru ini, grup Hard Rock International akan dapat memperoleh salah satu kasino hotel paling simbolis di Strip. Dibuka pada tahun 1989 oleh pengusaha Steve Wynn, Mirage membantu merevitalisasi Las Vegas, yang pada saat itu harus menghadapi persaingan dari Atlantic City.
Menyatukan 3.044 kamar atau suite, hotel ini memiliki akuarium 90.000 liter, aula pertunjukan, dan klub malam pada khususnya. Hal ini terutama dikenal karena gunung berapi yang secara teratur menerangi Strip.
Dengan ruang yang didedikasikan untuk permainan yang mencakup hampir 10.000 m², Mirage memiliki ruang poker dan ruang taruhan olahraga. Di kasinonya sendiri, terdapat 2.245 mesin slot dan puluhan meja permainan tradisional.